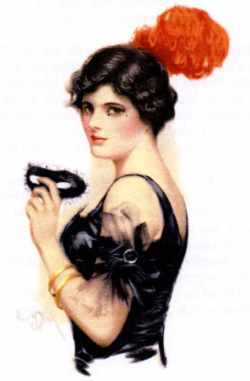 Enchantment Ink is pleased to introduce the 15th volume in our series of full-color guides to American illustrators, The Fairest Flower: A Collector's Guide to Frank Desch, by Norm Platnick. Ten years in the making, this new volume brings together everything known about Frank H. Desch's printed works, including full-color images of all his known calendars and prints, along with the magazine items (covers, illustrations, and ads), book illustrations, fans, sheet music, jigsaw puzzles, postcards, menus, tradecards, leaflets, needlecases, packets, blotters, boxes, posters, store displays, and die-cuts featuring his work. Sections cover the yardlongs, print series, company calendars, and both titled and untitled print/calendar images. The volume includes more than 375 images on 82 8.5x11 inch, velo-bound pages, including a detailed index/size & price guide.

The cost to US addresses is $40 by Media Mail or $45 by Priority Mail. Outside the US, contact us for a shipping quote.

Note: If ordered and shipped together with another Enchantment Ink guide, deduct $5 from the total; if ordered together with two or more other guides, deduct $8 from the total (to obtain the discount, please email a list of the books you want, and whether you prefer media mail or priority mail shipping, to norm@enchantmentink.com, and an invoice for payment will be sent via PayPal). NY residents must include sales tax. Payments gladly accepted via PayPal to norm@enchantmentink.com

Money orders or checks should be made out to Norm Platnick, 50 Brentwood Road, Bay Shore NY 11706.